Want to start an online video training platform? Users on the Internet are increasingly looking for permanently available information. Traditional TV programming increasingly has to make way for video on demand platforms such as Netflix. The great advantage of these platforms is that their videos remains available to the user 24/7. This way of offering is also increasingly common in online training courses and workshops.
In this blog we explain the benefits of an online video training platform, and then we give a short step-by-step plan so that you know how to set it up yourself!
Advantages Online video training platform
There are many advantages to an online video training platform compared to a more traditional platform. The most important are listed here:
It gives more peace of mind: you create a steady flow of income that you have little work on yourself. Once you have your training online, most of the work is done.
You transfer knowledge effectively: videos are much easier to sell than books, physical courses or training on location.
A fixed customer base: When you offer quality videos, you have the opportunity to retain customers for a longer period of time.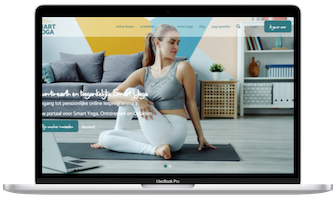 How can you sell your own courses
Step 1: Create your videos
The most important step: after all, this is your product! Make sure you know exactly what you are going to offer and to whom. Customers do not come to you by themselves. Determine a target group, make a content plan and set up a marketing plan. What makes you unique in the market?
Step 2: Choose a streaming platform
You can start from scratch with your own online video platform, but this is very time consuming. It is very important that your interface is user-friendly. Your product may be qualitatively strong, but if your platform falls short, customers will soon drop out.
AudiencePlayer gives you the tools to get started yourself. With AudiencePlayer you can easily set up your own platform, including landing pages; marketing statistics and more. This way you have the time and space to deliver quality content.
Step 3: Determine your revenue model
There are several ways to make money with videos on your own video platform. In short, the most common are:
SVOD: Subscription based video on demand (subscription).
TVOD: Transactional based video on demand (customers pay a one-time fee per video).
Rentals: Customers can watch a video for a specific period of time.
Credits: Customers receive credits that they can spend on video content of their choice.
AVOD: Advertisement based video on demand (customers do not pay, but will see advertisements with every video).
Depending on your product, you can choose one or more options.
Depending on your product, you can choose one or more options.
Once you have completed these steps, you can start setting up your own training platform! Can we help you? See how it works here!