AudiencePlayer is a so-called white label video player. But what exactly does that mean, and how can you use this yourself? We will gladly explain this to you!
What is White Label?
'White Label' means that one business sells a product that other businesses can alter and then sell to consumers are their own product. If you sell something 'completely white labeled', then basically you are selling a product without a brand.
A good example of this would be WordPress, the most popular Content Management System out there. WordPress offers the possibility to create a White Label website, physically making it stand out from WordPress. So this means that you've created a website with WordPress and also the tools offered by WordPress, but it is still your own original website and product.
Benefits of White Label
The biggest benefit of a white label product is that most of the work has already been done for you. The product itself is already standing, and it is up to you to adapt and tweak it to your liking in order to brand it the way you want. 
In  the example of WordPress, that means you don't personally need to know how to code anything. This is convenient, as it saves you a lot of hours.
What is a White Label video player?
This concept is easy to translate into the world of video streaming. A white label video player is an online video platform that gives you the opportunity to make your own video platform. You get to do this with customization options.
With customization options, we don't just mean aesthetic features. Here it also concerns adaptable revenue models, accessibility, video security and many other features. 
AudiencePlayer is a complete white label video platform
Now you are here after all, we might as well tell you all about our own white label video streaming platform!
We are proud to introduce AudiencePlayer! You can easily start up your own video platform, without any hassle. Basically, we are selling you the tools that you need in order to build a platform with your own branding.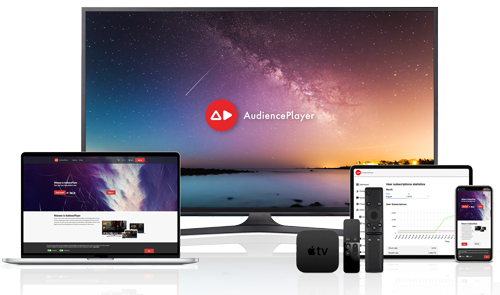 With AudiencePlayer you will have the following customization options:
A complete own look and feel (branding inclusive)

Different revenue/payment models (such as SVOD, AVOD, EST)

Fully automated marketing

Different platforms (apps, smartTV apps, etc.)

And much, much more!
This makes AudiencePlayer the perfect platform for both small and large companies, that want to sell videos online, with their own branding. AudiencePlayer has already had many different customers: from big cinemas to smaller independent companies selling online courses. 
Interested in starting your own white label online video platform? Take a look at our homepage for the possibilities! >>