The mass OTT market continues to thrive as OTT video subscribers surpass two billion by 2025. It's a tough battlefield, since Disney +, Amazon Prime Video, Netflix and Hulu are all expanding internationally by offering a mix of TV and movie content across a wide variety of genres.
However, the struggle between the deep pockets of this market giants only tell half the story. There has also been tremendous growth in specialized and thematic OTT services. This growth is fueled by a passionate audience, declining costs of technology and infrastructure and consumer demand.
OTT Market Figures: Consumers are looking for new platforms and content
According to Parc Associates report about 2021 Consumer Tech Trends to Watch, consumers are looking for new content. They are increasingly trying new service types. Roughly 40% of US broadband households have trialed at least one OTT video service during the COVID-19 crisis.
Recent research from Ampere Analysis shows that the average online video subscriber in the US is signed up to 3.4 services. This means that there is plenty of headroom for additional SVOD growth. US households are predicted to go as high as eight separate subscriptions. Especially since cord-cutting families increase their SVOD spends.
Statista calculated the US TVOD market was worth $1.9 billion in 2020. This results in a 23.5% increase year-on-year.
If we look at the success of our customers, the market numbers underpin both, the growth in the use of OTT streaming services and the need for niche platforms among consumers.
OTT platform costs have become affordable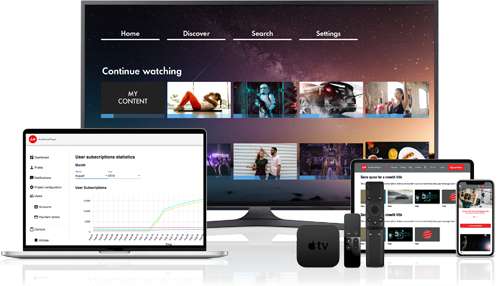 Many companies are looking into the possibilities of starting an OTT platform. During conversations we notice that many companies are concerned about the platform costs. During the preparation phase it is important to consider different suppliers and scenarios.
If you consider starting with AudiencePlayer, we can give you the following. When we look at the average costs of the AudiencePlayer platform in relation to the turnover per customer, it appears that the costs are between 7% and 18%.
To clarify this, we have made a calculation sheet so that customers can easily calculate the costs of AudiencePlayer.
Are you also curious about our costs or do you want to view the spreadsheet and calculate your costs with us? Feel free to contact us.