Streaming movies online is now a new source of income for many movie distributors. Preparing films for streaming movies online is an important point of attention that can sometimes be unclear. For example, we regularly receive questions from our customers about subtitles and multi-audio tracks. In this blog post we will elaborate on that.
Streaming movies online with MP4
Each movie has a source file that generally has to conform to current day standards. Within the file, the container indicates how video and audio data is structured. The most widely used container format worldwide is MP4. The encoding is how the actual video and audio data is encoded within the file. Common encoding types are h264 for the video data and AC3 for the audio data.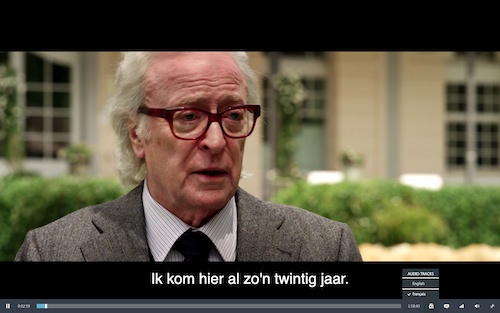 Audio tracks within your source file
A video source file can contain multiple audio tracks. For example, movies are often available in multiple spoken languages. When preparing a source file for streaming, it is important that the audio tracks are properly ordered. Within the entire sequence, the first audio track must contain the primary spoken language. It is also important that the audio tracks have the correct name. This will allow most video players to correctly recognize the audio tracks and display a user-friendly name such as "English".
Points to note with subtitles
Most video source files are accompanied by one or more subtitle files, one for each language. The most common formats used on the internet are webvtt and srt. There are some clear differences between both formats. Overall, webvtt can be considered the more professional type. This file has a wide range of formatting and style options that allow editing of the subtitles displayed.
It is important that the subtitle files meet the usage specifications of each format. Otherwise web browsers and devices may not be able to display subtitles properly. Below you will find 3 important points of interest:
Some characters (such as an ampersand &) are considered special characters and must be displayed correctly (for example & amp; instead of &).
The time codes for a particular sentence to be displayed (for example, two minutes and 5 seconds after the start of the video) must also be correct. If your subtitle file contains time codes that don't match the video (for example, display after 12 hours while the video is 1 hour long), this can also be problematic for some devices.
Images must match the appearance of your videos on your video platform. For example, do you use portrait photos including titles (e.g. typical movie posters) or do you use video images?
These are the most important tips we would like to give you. If you still want to know how to stream videos safely and prevent piracy, we recommend that you read our blog about Digital Rights Management. If you have any other questions, do not hesitate to contact us.