Nowadays any yoga school and teacher can start a yoga video streaming platform. Where yoga was practiced by a limited number of people years ago among the yogis in the Himalayas, now everyone has access to learning this art form. Yoga schools have sprung up like mushrooms in recent years and classes can now also be followed from the living room via yoga video streaming platforms.
So yoga is popular. Not even the coronavirus has been able to stop the advance of yoga. In fact, yoga may have become more popular than ever before due to the coronavirus. If you are considering starting a yoga video streaming platform, it is good to keep the lessons below in mind. We have prepared 6 lessons for you that we have learned from our top customers.
Yoga on the big screen
Consumers today are used to watching videos on different screens. As we indicated in the blog about streaming platforms, consumers have an average of 4 devices connected to the internet in the living room. When it comes to sports at home, we see that the large TV screen is particularly popular. This is of course not surprising as it is much easier to follow exercises of a yoga teacher via a large screen. To increase your success it is therefore important that your yoga video streaming platform can be viewed via the TV screen. This can be done, for example, via Google Chromecast, Apple AirPlay or smart TV apps.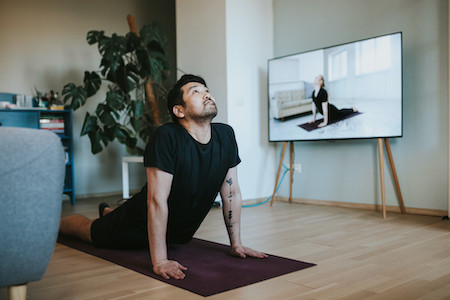 Your own revenue model
Starting your own yoga video streaming platform gives you control over your own revenue model. Where YouTube pays an average of 1 dollar for every 1000 views, you can sell videos with your own video platform on the basis of subscriptions or pay-per-view. A quick calculation shows that your own revenue model can immediately lead to a higher revenue. For example, suppose that 1 percent of 1,000 users are willing to pay $ 1 for a video, then you've converted $ 10 instead of $ 1.
This does not mean that you should stop with your YouTube channel. We recommend that you use YouTube as an online marketing tool. For example, put short inspiring videos on your YouTube channel. Indicate that there are many more and longer videos available on your own yoga video platform. Your true fans may be willing to pay for your videos.
Don't be afraid to experiment with different revenue models side by side. For example, where one consumer prefers to take out a subscription, another consumer prefers to buy a series of videos once. As long as your revenue increases, it does not matter which revenue model you use.
Making videos
Nowadays you can produce videos yourself quite easily. With a good mobile phone, sound set and online editing software you are able to produce a high quality video. One of Dutch our customers has made dozens of videos in this way quite quickly. It is of course important that you choose a room with a calming background and that you choose a good angle for the camera.
If you have a bit more budget, it is worth recording videos in a studio with a "green screen" background. The big advantage is that you can then create your own background in your editing software. You can find an example of a Dutch customer using this here.
Start partnerships
With a group you achieve more than alone. This wisdom is as old as the road to Rome. To promote your yoga video streaming platform and make it visible to your audience you need partners. We see that our top customers enter into partnerships in many different ways. Consider, for example, yoga shops that offer a free trial period by means of a voucher when selling a yoga product. Start collaborations with other yoga trainers or schools, or organize a yoga retreat weekend at an inspiring location. Which collaboration works best is of course different for everyone. Think what works for you.
Online visibility
Of course, your video platform must be easy to find online. It is important that the basis of your video service is solid. Make sure that all pages are designed as user-friendly as possible. For example, do not write too many long texts, use beautiful photos and keep the number of call to action buttons limited. Also keep in mind that all pages on your website comply with the SEO rules so that Google indexes your yoga video streaming platform optimally.
An organic and qualitative way to be found by Google is to write blogs. You are actually creating landing pages where you can be found. It takes time and discipline to do this on a structural basis, but you will see that if you keep this up for a long period of time, Google will reward you and your traffic will skyrocket.
If you have some extra budget, you can create and promote advertisements through various channels such as Google, LinkedIn, Facebook and YouTube.
Make your yoga video streaming platform a brand
Consumers like to connect with a brand. It is therefore important that your yoga video streaming platform is positioned as a brand with a specific story behind it. Think about who your target audience actually is. What drives them? What are they looking for and how can you respond to that? Do you mainly want to promote a healthier lifestyle or more peace and strength? If you know this, you can respond to this with your texts on your website.
Are you ready to start after reading this blog? Then now is the time to take action. Click here and we will be happy to help you.